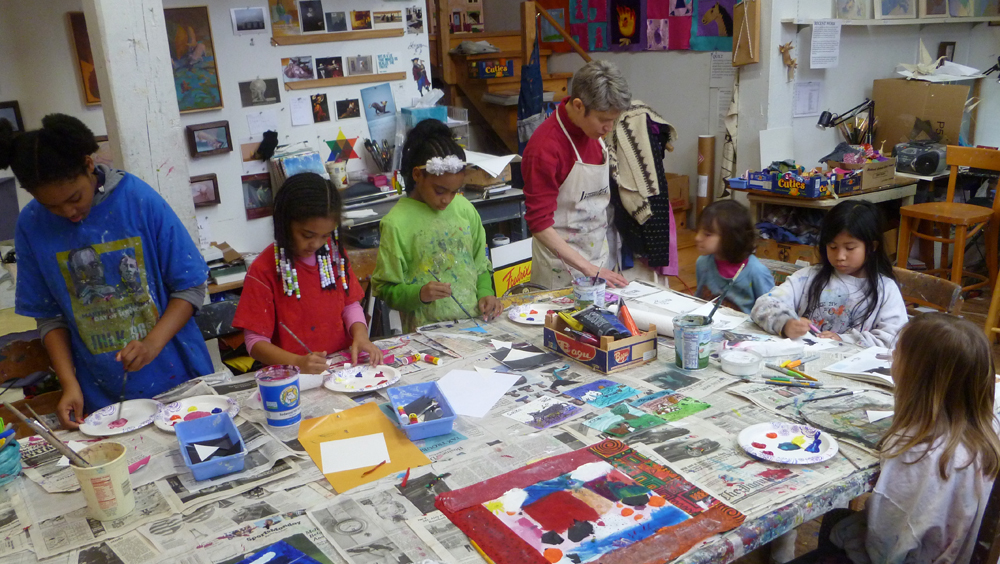 Welcome!! Read on for more about who we are and what we do here.
I'm Mindy Flexer, and I created this school in my loft to give all kinds of people of all ages a place to come together and make art. As a working artist in Germantown, I'm delighted to be able to invite people into my studio to share the journey with me!
My studio is an inclusive place where every person is cherished and nurtured. It is a base camp: a safe home, beautiful and meaningful in itself, from which to launch other expeditions. Within and beyond the studio, it is good to have big dreams and to take on big challenges: creating art, creating community, and creating a more just world together.
FALL ART CLASSES ARE HAPPENING,
and we would love for you to join us!

SATURDAY MORNING ART CLASSES ARE HAPPENING TOO!
Children: 9:00am to 10:30am
Teens and Adults: 10:45am to 12:15pm
YOU'RE INVITED TO "BLOOMING AND THRIVING," OUR SHOW AT THE COLEMAN LIBRARY
STAY TUNED FOR MORE CHANCES TO MAKE THINGS FOR CLIMATE JUSTICE!
I'm looking forward to hosing more make-ins for an ongoing campaign demanding that PECO convert to 20% local solar by 2025. To learn more about this campaign and the organizations creating it, read about EQAT (Earth Quaker Action Team) and their mission of building a just and sustainable economy through nonviolent direct action here. Read more about POWER, an interfaith organization committed to implementing systemic change for the betterment of Pennsylvania communities, here.